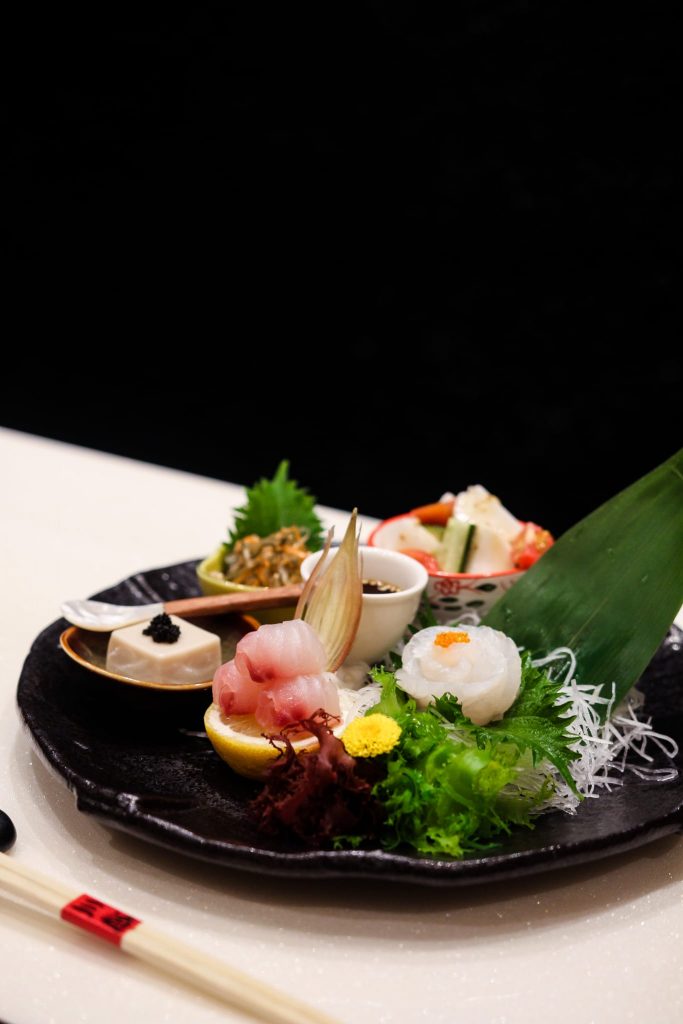 Our appetizer consists of Goma Tofu (Sesame Tofu With Sesame Dressing), Nagaimo Sumiso-Ae (Mountain Yam With Dressing Miso & Vinegar) and Chuka Hotate Konbu Su (Seasoned Scallop Wings With Brown Seaweed Sauce Mixed With Vinegar).
For the sashimi course, please look forward to Hirame Usuzukuri (Thinly Sliced Flounder Fish), Isaki (Threeline Grunt Fish) *Dipping Sauce With Ponzu.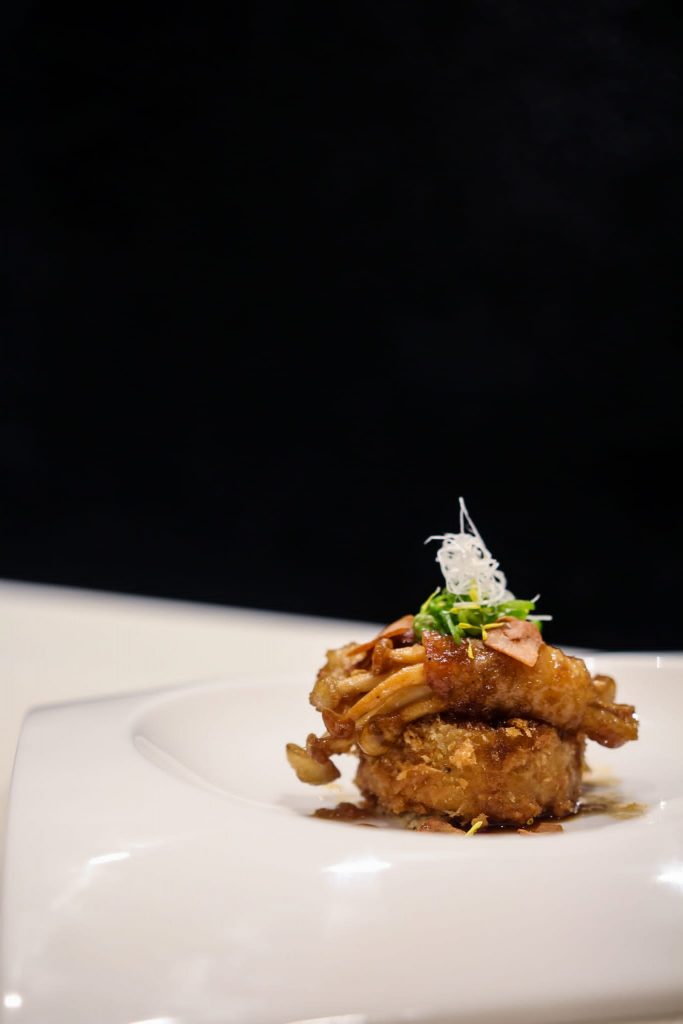 For our side dish, it is the Bei-Nasu Age To Kurobuta Tsutsumi Yaki (Crispy Fried Japanese Eggplant. Made with Flaky Japanese Panko Breadcrumbs & With Thinly Sliced Pork Rolls with Seafood Mushroom)
To top it off, we have Hamachi Arani + Tempura Chazuke (Simmered Yellow Tail Fish In A Sweet Soy & With "Assorted Tempura" Consisting Prawn & Vegetables On Topped Of Steamed Rice & Served Together With Hot Broth Is Poured Over) as the main courses.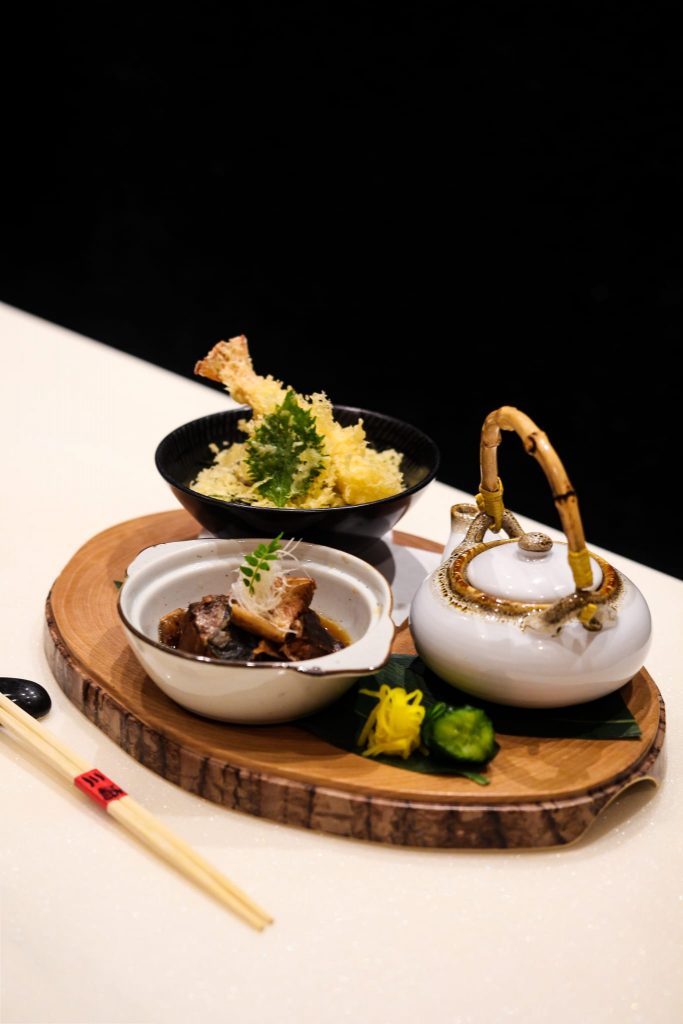 MISAKI MONTHLY SPECIAL – APRIL 2023
(**Available lunch and dinner**)
UZUKI

GOZEN
April Special Promotion
👉3 Kind of Appetizers
🥗Goma Tofu
(Sesame Tofu With Sesame Dressing)
🥗 Nagaimo Sumiso-Ae
(Mountain Yam With Dressing Miso & Vinegar)
🥗Chuka Hotate Konbu Su
(Seasoned Scallop Wings With Brown Seaweed Sauce Mixed With Vinegar)
---
🎏Otsukuri (2 Kinds of Sashimi)
🐠Hirame Usuzukuri
(Thinly Sliced Flounder Fish)
🐠Isaki
(Threeline Grunt Fish)
*Dipping Sauce With Ponzu
---
👉 Bei-Nasu Age To Kurobuta Tsutsumi Yaki
🍤(Crispy Fried Japanese Eggplant. Made with Flaky Japanese Panko Breadcrumbs & With Thinly Sliced Pork Rolls with Seafood Mushroom)
---
👉Hamachi Arani + Tempura Chazuke
🥩(Simmered Yellow Tail Fish In A Sweet Soy & With "Assorted Tempura" Consisting Prawn & Vegetables On Topped Of Steamed Rice & Served Together With Hot Broth Is Poured Over)
---
🍈Dessert
🍨 Mochi & Ice Cream
---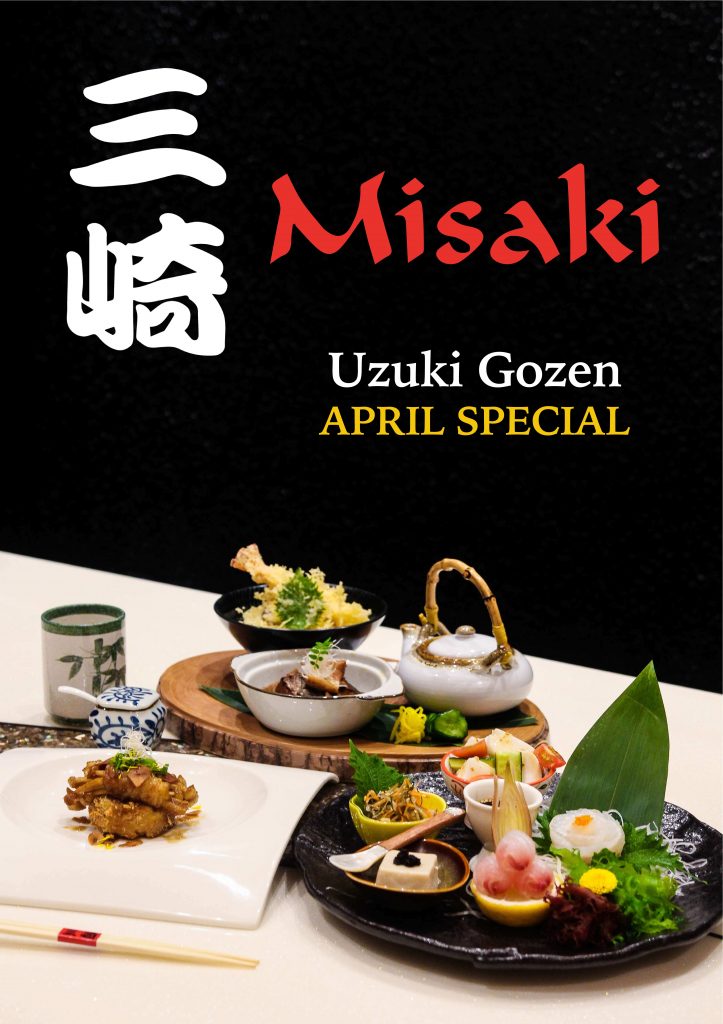 🐟🦞[Five Course delicious dishes]🎣🐡🐠
💋Dear customers, don't miss it !!
hurry up !! Booking with us now. 🤙
Hurry call in to make a reservation now:
+65 6443 1187🤳