Promotion For The Month Of December 2022 & January 2023.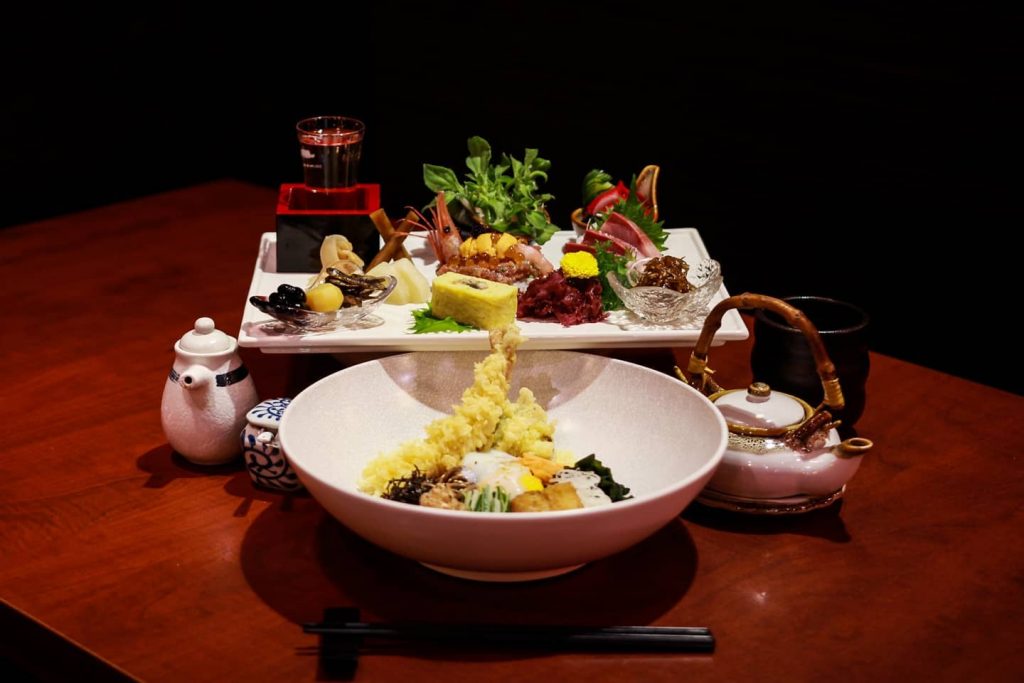 毎度ありがとうございます!
As 2022 draws to a close, Misaki would like to thank all our guests who have supported us through this extraordinary year. To mark our 8th Anniversary, we have prepared a traditional Japanese dish that celebrates the passing of a challenging year: 年越しそば Toshikoshi Soba.
But first, let's introduce the amazing appetiser!
Taking centre stage, we have the Amaebi (Sweet Shrimp) topped with Caviar and Fresh Uni (Sea Urchin), on a bed of Negitoro and Ikura (Minced Tuna with Spring Onion; Salmon Roe): this is surely a combination that will light up your tastebuds! Pair off with the Puchina Salada (Crystal Ice Plant Salad) — the uniquely succulent crunch of African ice plant provides a cool, refreshing counterpoint to richer umami flavours.
Another unusual creation this month is the Umaki, Japanese eel wrapped in yakitamago, a special twist on the homely fare of grilled egg omelette. Round off the appetiser with Hamachi Sashimi (Yellowtail), Tako-su (Vinegared Octopus), Pirikara Konnyaku (Spicy Konjac), and finally, a side dish of Kuromame, Kuri Kanroni and Tazukuri (Black Beans, Sweet Chestnuts and Candied Sardines).
That's a lot to work through! Wash it down with a complimentary glass of fine Sake, served warm or cold at your choice.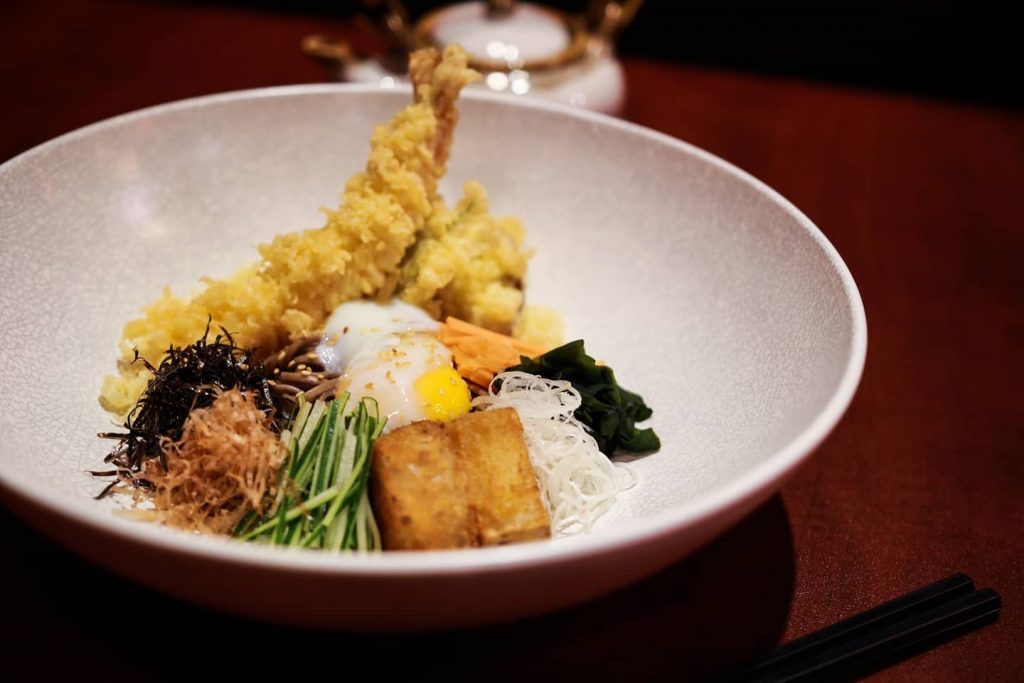 Toshikoshi soba (年越し蕎麦) […] is Japanese traditional noodle bowl dish eaten on New Year's Eve. This custom lets go of hardship of the year…

Wikipedia: Toshikoshi Soba
The highlight of our 7th Anniversary Special is Toshikoshi Soba. This traditional dish, made with buckwheat noodles, inherits its symbolism from the resilience of the buckwheat plant, which can survive severe conditions as it grows. Yet, soba noodles are easily cut with chopsticks, which represents the passing of difficult times.
The soba is served with Ebi, Oba and Satsumaimo Tempura (Prawn, Perilla Leaf and Sweet Potato Deep-Fried in Batter), and topped off with Okaka (Fragrant Bonito Flakes), Kizami Nori (Crispy Seaweed), Nagaimo (Japanese Mountain Yam), and finally, Onsen Tamago (Poached Hot Spring Egg).
Please pour the broth, which is served separately, boldly into the bowl and enjoy the comforting warmth of this seasonal creation.
🎏🎏🎏🎏🎏🎏🎏🎏🎏🎏🎏🎏🎏🎏🎏🎏🎏🎏🎏🎏🎏🎏🎏
🍢Appetizer
[Spicy Konjac, Octopus Marinated Vinegar, Crystal Ice Plant Salad, Eel Roll Omellete, Black Beans, Sweet Chestnuts & Candied Sardines.]
---
🐠Sashimi
[Uni(Sea Urchin), Ikura(Salmon Roes), Amaebi(Sweet Shrimp), Hamachi(YellowTail) & Negitoro(Minced Chopped Tuna Belly)]
~SASHIMI ON TOPPED OF SUSHI RICE
---
🍜Tokubetsu Toshikoshi Soba (Japanese "Soba[Buckwheat] Noodles Bowl Dish")
🍤Consisting of Tempura Prawn, Perilla Leave & Sweet Potato
🥚With Hot Spring Egg
🍲Hot Pot Soup is poured over
---

🍧Dessert (Mochi & Ice Cream)
---
MISAKI 8TH ANNIVERSARY SPECIAL
~Dec 2022 to Jan 2023~
✨Available Lunch & Dinner ☀️
🍶Complimentary One Cup Of "Hakushika" Sake